Delve into the Rich Culture of the Places that are Being Awarded the Title of Craft Cities of the World. Jaipur is also one of them!
Art, culture, heritage, and people make the soul of any place. The world is truly a canvas, filled with diverse arts, and myriad of hues, each representing their origins and the rich descent they have inherited. One lifetime is not enough to explore the bounty of the arts and crafts that are being practiced, preserved, conserved, and promoted around the world to keep the beauty of human touch alive in the machine-dominated world of today.
Around the world, the people are coming to the realization of the importance of handicrafts, handlooms, and art-forms and many organizations, communities, and groups are tirelessly working towards creating a sustainable ecosystem for the same.
The World Crafts Council AISBL, is one such not-for-profit, non-governmental Belgium-based international organization founded in 1964 that is working towards the promotion of international crafts and craftsmen of the world. Initiating fellowships, meaningful exchange programs, seminars, workshops, exhibitions and fairs, etc., WCC is offering an international platform to the craftsmen across the globe. Affiliated to UNESCO, it carries its functions through its daughter organizations divided into five regions, namely, Africa, Asia Pacific, Europe, Latin America, & North America.
From all these regions, it has recognized and enlisted the various craft cities in the world that are doing exceptional work in contributing to the preservation and promotion of various age-old arts and crafts. Through this list, they aim to highlight the reputation and the assets of a creative city on a global platform in order to augment the local creative tourism in the cities and create better economic opportunities through worldwide collaborations and partnerships.
Here's the list of the craft cities of the world in Asia-Pacific region that also recognizes 2 Indian cities including Rajasthan's capital city, Jaipur, too: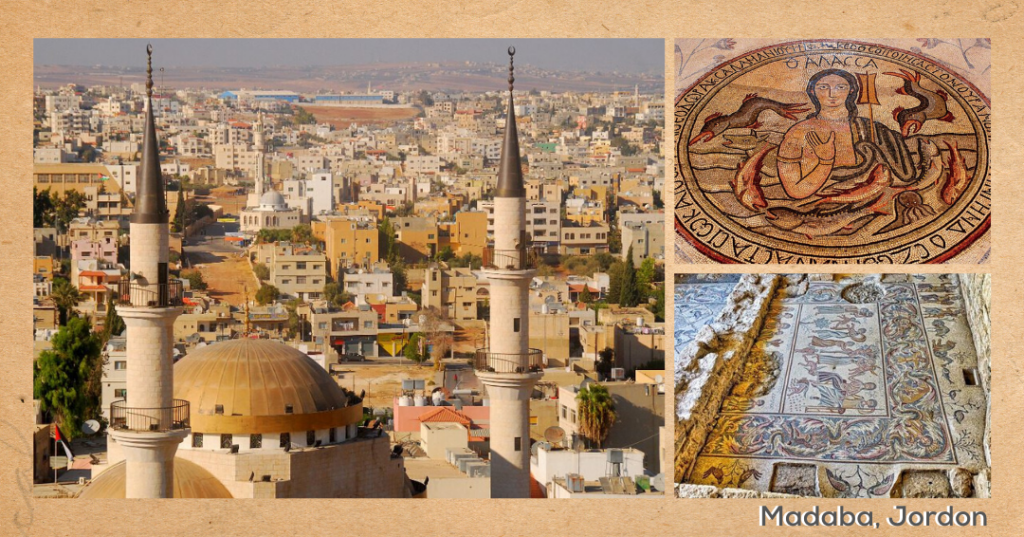 Madaba, Jordon
The capital of Amman, Madaba is popularly called the 'city of mosaics,' and is world-renowned for its collection of Roman and Byzantine mosaic artworks. Its famous mosaics can be found at many famous landmarks of the city including the St. George's church that stages a map of the Holy Land crafted in Byzantine mosaic, built between 542 & 570 AD. Another Church of the Virgin Mary preserves a mosaic that dates back to 767 AD, depicting the long-standing culture and heritage of Madaba.
Lalejin, Iran
The global heartland of pottery and clay, Lalejin is a small town in Hamadan province and has been awarded the status of World's Pottery Capital by UNESCO. As per various reports, over 70% of the population in Lalejin are potters, ceramists, or are in some way into businesses pertaining to pottery and clay. The soil of the place is the prime reason for its glorification and perseverance of this craft for over 300 years, making it a legacy craft of Lalejin.
Through years into the art-making, the craft has gone through vivid innovations to enhance the processes, increase the durability, additions to its decorations, etc. In fact, its bisque firing method of producing pottery artefacts have found a global fanbase leading to its huge international demand.
Hebron, Palestine
Hebron is believed to be one of the oldest cities in the world and has experienced many great events and civilizations, the impact of which can be hugely seen in the cultural and human mix of its heritage. Pottery, glassblowing, ceramics, and intricate embroidery have become the most crucial traditional handicrafts, making it the hub for worldwide exports of these products in the country.
Tabriz, Iran
One of Iran's UNESCO World Heritage Sites, Tabriz is the carpet weaving centre of the world and the Tabriz Historic Bazaar Complex is one of the most popular international commercial sites on the Silk Road path.
Mamallapuram, India
A 13-century old small town in Tamil Nadu, India, Mamallapuram has a very strong ancient-connect with culture and heritage. It earned the status of UNESCO Heritage Site, back in 1984, establishing itself as an important centre of culture, craft and commerce along with being a marvel in stone crafts. The traditional techniques of the stone carving (known as Shilpa Sastra) has been passed onto generations making it a cultural legacy to cherish and treasure.
It is believed that the practising artists of today are direct descendants of artisans and craftsmen mentioned in the ancient texts. Artefacts, architectural elements, and sculptures form the basis of stone carving done today, making Mamallapuram a prominent exporter of these products with the huge demand for its exclusive handmade products in many parts of the world.
Mashhad, Iran
Situated in the Northeast of Iran, Mashhad is a metropolis with a rich history of handicrafts and traditional arts. In fact, Mashhad has more than 62 active fields of handicrafts with 8900+ individual and group workshops involved with the production of the same. Out of these 62, the most popular areas of arts include metalwork, inlay, stone carving, kilim-weaving, traditional saddler, hand embroidery, tile work, knot-mirror design, woodwork, etc.
Marivan, Iran
Marivan rose to fame in the last decade and has now become the arts and crafts hub in Kurdistan province of Iran. The flourishing economy led by the growth of handicrafts trade opportunities can be attributed to the artists of Marivan, who have weaved exceptional creativity and innovation into their native arts. The city is famous for its cotton and leather made footwear and is a living museum showcasing the magnificence of its craft. The other practised arts include klash-stitching, felting, traditional weaving, wood arts, Kurdish crochet, traditional costumes, rugs and kilim, etc.
Jaipur, India
The first planned city of India, Jaipur's founders also placed high importance in preserving and nurturing the native arts and crafts. Rajasthan, and especially Jaipur, is the cultural hub of the country and has unlimited flourishing crafts and art forms that are being practised for generations in the city.
Exquisite jewellery-making (Kundan Jadau- gem setting), meenakari, lac-based work, ​blue pottery, gotta-patti (appliqué) textile work, tie and dye resist-dyeing, hand block printing, and stone statue sculpting are some of the innumerable crafts that characterize the enriched cultural heritage of Jaipur. It has become a global landmark for rich artforms and a popular site for cultural tourism.
Sirjan, Iran
A city in Kerman province, Sirjan's handicrafts have been preserved by the rural and tribal groups that inhabit the place. Apart from many other flourishing crafts of Sirjan, it is also known for its Kilim weaving, the oldest carpet weaving method, that has existed here since the very foundation of the place. With time, many innovations and adaptations have been done to this weaving method in order to fasten the production processes.
Sakon Nakhon, Thailand
Preserving the age-old method of natural indigo dyeing, Sakon Nakhon for generations have been passing on and preserving the knowledge of making this organic and natural dye, making it a treasured artform of the place. To add to their indigo dye industry of craftsmen, thousands of farmers grow indigo plants, enabling a self-sustained economy system and strengthening the trade opportunities of Sakon Nakhon.
Fuxin, China
Honoured as the hometown of the jade dragon and the origin of civilization by the global archaeological communities, Fuxin holds an exclusive position in China's history with being the epicentre of agate carving.
The exploration of this craft in the province has led Fuxin to secure a spot in the National List of Intangible Cultural Heritage of China, and is the biggest genre of agate carving in terms of industry size. In 2013, Fuxin also earned the title of "China Agate City" for its eminent artistic culture and preservation of local heritage.
Tripoli, Lebanon
Copperware has been a part of Tripoli's extravagant cultural heritage since ancient times. A treasurer of many art forms, each craft has its own souk in Tripoli, making it a well-planned city for national and international trade of the unique artforms. Organized in over 100 small workshops, the traditional craft fields of Tripoli involve woodworking, copper (manufacturing, engraving & inscription), soap manufacturing, mosaic, fishing boat manufacturing, etc.
Yogyakarta, Indonesia
From keychains to furniture, 75000 handicraft makers of Yogyakarta have conserved the social and cultural heritage of Indonesia. Batik, a native textile artform of Indonesia is also practised in the city and has become a green fashion movement in the country. Acclaimed nationally and internationally as the craft centre, Yogyakarta's craftsmen are known for their precision and intricacy.
Khon Kaen, Thailand
Khon Kaen is a refreshing peek into the area's history and cultural affinities. It is the centre of the Northeastern Silk industry with an exclusive industry of mud-mee (ikat) silk designs. In fact, the Khon Kaen's mud-mee silk has received more than 60 awards of UNESCO Craft Prize and is considered a prototype of the ancient method of the weaving craft.
Lalitpur, Nepal
Lalitpur means the city of skilled artists is home to highly adroit artisans with most of its economic trade happening around its handicrafts. The rich heritage of Lalitpur has been captured by many famed Nepali writers and authors from around the world.
​There are numerous institutions under CTEVT of the Government of Nepal offering 6-month or 1-year long intensive traditional skills training programs to the youth of the country. Lalitpur's cultural assets include the rich pashmina, carpet, and felt products, making it one of the biggest exporters of these products in Nepal.
Kuching, Malaysia
The capital city of Sarawak state, Kuching is another city known for its mastery of multiple and diverse artforms. The most famous of them are brocade weave, ikat weaving, batik, silver metallic embroidery, mat weaving, wood carving, boat building, basketry, clay pottery, hat-making (terendak), beadwork, and so many more.
Gianyar, Indonesia
Bali's insurmountable growth in international tourism led to Gianyar being recognized for its handicrafts across the world. Each village in Gianyar has become hubs for particular artforms: Batubulan and Singapadu are known for their sandstone carving, Celuk village is popular for its gold and silver jewellery-making, Batuan and Ubud have become famous for its exclusive style of paintings, and the Mas village is a well-renowned centre for wood carving, masks, and bamboo furniture.
Conclusion
All these cities are a must-explore for the art enthusiasts and travelers who are looking for more than just travel or adventure travel and want to dive in the culture of the place they visit. BTW, how many of these cities have you ticked off from your list as yet? Let us know in the comments below.
Also follow Rajasthan Studio on Instagram for more amazing art and travel content. Reach out to us on email at contact[at]rajasthanstudio[dot]com. This blog is curated and written by Rajasthan Studio.