Rajasthan is one of the rare places in the world, which is a treasure-trove of rich cultural practices and traditions. Here centuries of history have been preserved really well. When someone visits Rajasthan, it feels like a place where traditions and modernity co-exist in a joyous manner. But, if you're someone from Rajasthan, we can bet that you are tired of being stereotyped everywhere you go. Despite its vast heritage and historically significant background, it is high time that people realise that Rajasthan has more to it than deserts and Rajputs and stop their stereotypical practices. Here are some of the most common Stereotypes that every Rajasthanis faces: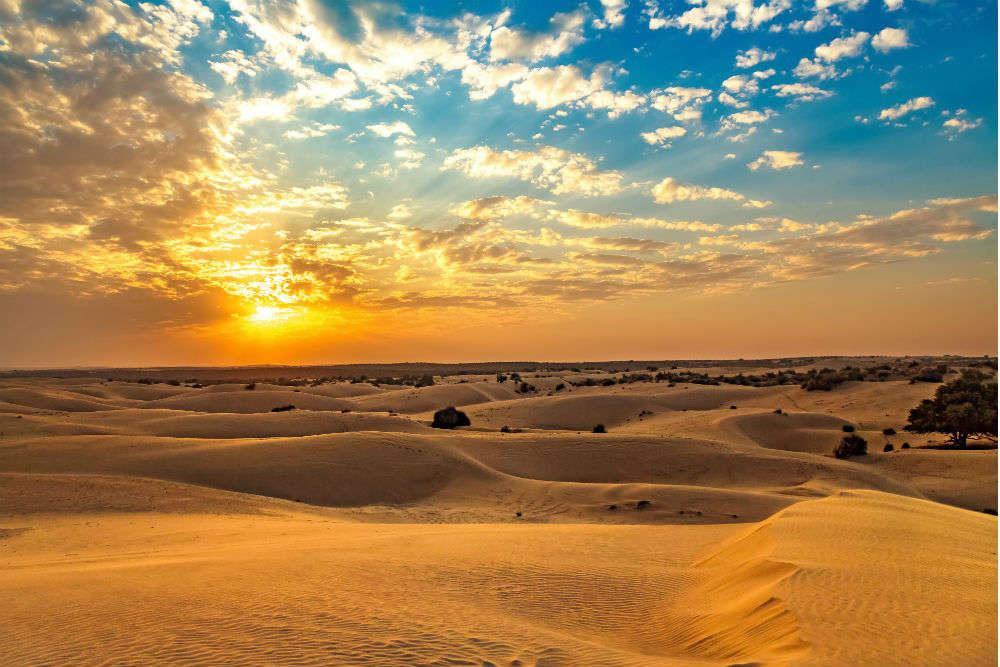 1. Rajasthan is a desert land:
If someone you know believes this, it's safe to say that they didn't pay attention in geography class! This is easily one of the most common and frustrating Stereotypes that every Rajasthani faces and is tired of. The Thar Desert, located in western Rajasthan, is India's largest desert. It is also known as the Great Indian Desert and covers over 70% of Rajasthan's total landmass. It is located in the districts of Jaisalmer, Barmer, Bikaner, and Jodhpur. The Thar Desert, in fact, stretches throughout western India and southeastern Pakistan. Therefore, this vast swath of arid territory extends into the southern parts of Haryana, Punjab, and Northern Gujarat, and Pakistan's Sind region.
2. All Rajasthanis are either Marwari, Baniya's or Rajputs:
Thanks to Bollywood and Indian TV Soaps and their stereotypical heroes, this is another widespread misconception about Rajasthan and it also ignores how diverse land actually is. Rajasthan is a culturally rich land with a population of approximately 69 million people who come from a variety of ethnic and indigenous tribes, each with their own culture, traditions, religious customs, and language. The Marwari (or Marwadi) people are primarily from Rajasthan's Marwar region (Jalore, Pali, Sikar, Barmer, Jodhpur, and Nagaur) and Bikaner (Churu, Nokha, Sardarshahar). Rajasthan also has Pareek, Agrawal, Jat, Maheshwari, Garasia, and more ethnic groups.
3. Rajasthan and Gender Inequality:
Since a strong male-dominated society rules the state of Rajasthan, there's another stereotype of Rajasthan that it is one of the most conservative regions in India. Rajasthan, on the other hand, has a long history of strong women who have defied traditional expectations and proven their worth since the Middle Ages. The gradual increase in entrepreneurship paved the way for women's empowerment today. According to the Rajasthan State Resource Centre for Women, the sex ratio at birth (SRB) has been increasing each year since 2013.
Princess Diya Kumari of Jaipur, who founded her philanthropic social outreach programme PDKF in 2013, is a perfect example of this. She is a staunch supporter of women's rights and works to improve the lives of the poor in Rajasthan, with a particular focus on women and girls.
4. Rajasthanis only eat Dal, Baati Churma:
One of the most popular stereotypes faced by local Rajasthanis people is that they only love Dal, Baati and Churma . But the variety of Rajasthani cuisine often baffles the tourists. Despite dal, baati, churma being Rajasthan's traditional cuisine and extremely delectable, there are a plethora of other delectable foods too. Gatte ki sabzi, bajra ki roti, ker sangri, kachori, mirchi bada and many other vegetarian meals are available. There are many options for meat-eaters too, such as safed maas (meat dish) and laal maas (meat curry) and for dessert, there is always some room for 'ghevar'. We're not exaggerating when we say that each of these dishes will have you going back for more and put this stereotype to rest. 
5. Rajasthan consists of just Udaipur, Jaipur and Jodhpur:
Yes and Maharashtra consists of only Mumbai… what? You're from Pune? Never heard of it. Jokes apart, this is one of the dumbest Stereotypes that every Rajasthani faces. Yes, Jaipur and Jodhpur are lovely cities worth visiting, but they do not represent Rajasthan as a whole. In reality, there's a lot more culture, customs, traditions, and architecture to learn about. There are several lesser-known places that are artistically, culturally, and historically significant. Churu, Bundi, Mandawa, Rajasmand, Pratapgad, and Sikar are a few of them.
We have just scratched the surface in this article with the Stereotypes that every Rajasthani faces. But there are plenty out there and they get progressively dumber as we go-through the list of these local stereotypes. Non-rajasthani people need to look beyond stereotypes. They actually get to know the state by exploring it or reading about its rich history, cultural practices and traditions. 
Don't forget to read – Why is Rajput painting famous in Rajasthan?
Follow Rajasthan Studio on Instagram for more amazing art and travel content. Reach out to us on email at contact[at]rajasthanstudio[dot]com. This blog is curated and written by Rajasthan Studio.